This week the museum staff had the pleasure of hosting 10 young fourth and fifth grade ladies from the Girls' Empowerment Project. The project is a collaborative program between Harbor House Domestic Abuse Services and the Boys and Girls Clubs of the Fox Valley that is funded by a grant from the Unitarian/Universalist Fellowship of the Fox Valley.
The Girls' Empowerment Project motto is "Be strong, be kind, and rock the world." While at the museum they learned of women artists who are doing just that including Audrey Handler, Cathy Richardson, Debbie Tarsitano, Emily Brock and Vladimira Klumpar, among others.
They also toured the temporary exhibit of Jeffrey Stenbom, Thank You. They learned of the sacrifices the women and men in our armed forces make to protect our freedoms and discussed how the artist uses his work to tell his story of wartime experiences.
After the tour, the young ladies went to The Glass Studio empowered to to tell their own stories in glass. They began with making a pendant with Mod Podge, glass and their own drawings. In keeping with the spirit of their program to "be kind", the girls are to give the pendant to someone who they love or who has supported them.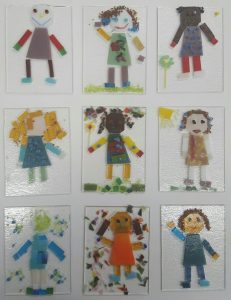 Following the pendant project, the young ladies began work on their self-portrait in glass. Prior to coming to the studio they drew a picture of themselves to work from. Using cut glass, frit, stringers and glass confetti they fashioned an image of themselves. The projects will be fired and given to the girls at the program graduation in August.
Until that graduation day, the group will meet each Friday working on group projects and learning skills needed to support one another as they mature. The point of the program is to teach these skills prior to adolescence so the girls can be a support for one another and teach their friends to do the same in middle and high school.
Posted in News, The Glass Studio | Comments Off

on Art Empowers Area Youth