Docents Know Glass
January 22 – May 16, 2021
Since our doors first opened in April, 1959, docents have played an integral role in sharing the story of Evangeline Bergstrom and her passion for collecting and expanding upon our knowledge of glass as an artistic medium. Through the efforts of docents past and present, visitors have gained a deeper understanding and appreciation for the time and expertise necessary to create works of glass art. Their continued enthusiasm and spirit of volunteerism exemplifies our vision for being The Place for Exciting Discoveries in Glass.
With combined docent experience totaling more than 75 years, our volunteer guides have selected works for exhibition from the permanent collection that are most significant to them. From antique paperweights and Germanic glass drinking vessels to Victorian baskets and contemporary glass sculpture, Docents Know Glass is sure to inspire an appreciation for everything Bergstrom-Mahler Museum of Glass has to offer – including our fantastic docents! This exhibition is curated by our current docent corps, including Liane Butitta, Gail Dolan, Chris Grunwald, Kay Hendrickson, Pat Rosenak, Mary Ellyn Vicksta and Jeff Zdrale., and is supported in part by the Richard L. Johnson Memorial Fund.
/ˈdōsənt/ (noun) a person who acts as a guide, typically on a voluntary basis, in a museum, art gallery, or zoo.
Meet our Docents
Select Works from the Exhibit
Don't miss the "Docents Know Glass" online special events
Museum Members Only Online Event: REGISTER HERE
Opening Celebration – January 21, 7:00 pm
All events will be held ONLINE via Zoom.
Museum Members and Pubic Online Events: (Registration Opening Soon)
Virtual Tour – February 16, 10:30 am
Virtual Tour – March 16, 10:30 am
Virtual Tour – April 21, 10:30 am
Closing Celebration – May 13, 7:00 pm
All events will be held ONLINE via Zoom.
---
Victorian Glass Baskets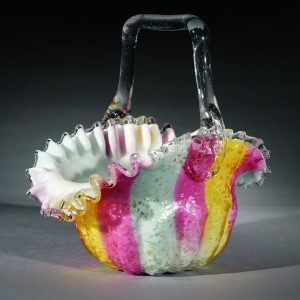 October 9, 2020 – October 9, 2021
During the reign of Alexandrina Victoria, Queen of Great Britain, Ireland, and Empress of India (1837-1901), English and American glass factories responded to the rise of consumerism and the increasing desire for everything glistening and ornamented by creating and marketing fanciful glass table decorations for middle and upper-class households. The art glass basket reached the height of its popularity between 1880 and 1890. These colorful and highly decorated works of art glass represent both ingenuity and technical skill. Frequently embellished with ruffled rims and applied handles shaped in loops or decorated with thorns, these baskets proved to be popular wedding gifts and were a mainstay in Victorian homes. Now on exhibit in the Mabel R. McClanahan Memorial Study Gallery.