High School Alumni Return to The Glass Studio
During the past five years, hundreds of high school students have participated in glass making workshops at Bergstrom-Mahler Museum of Glass in preparation for the Fox Valley Area High School Glass Exhibition. Some students return to the workshops for a couple of years while they're in school or volunteer at a museum event, but usually it's a one and done glass experience for them.
For two alumni of the high school exhibition, their glass experience has been a life-changing one in which they have taken the opportunity to give back to a program that illuminated a career path for them. Meghan Wagner and Julia Rose Brechlin were invited to the museum to help teach during workshops for this year's Fox Valley Area High School Glass Exhibition. Studio coordinator, Dawn Passineau saw potential in these two alumni of the high school exhibition when they worked here and invited them back to teach during the high school glass workshop held in preparation for the annual high school exhibit.
Both Wagner and Brechlin are now studying three-dimensional art at colleges in the UW system. Wagner is at UW-Stevens Point where there is a program in glass. She has also taken classes from world-renowned artists at the Corning Museum of Glass and Urban Glass. She returned for a day to assist in the flameworking studio and share her experiences.
Julia Brechlin, a former student at Neenah High School, will be transferring from UW-Fox Valley to UW-Oshkosh to finish her art degree, a career path she said she was inspired to pursue because of her experiences here.
"Because I came here in high school for a few years, I realized I had the talent and it showed me I had the potential. I saw that my art was worth something."
When Neenah High School students came to the museum for their studio time, Brechlin, shared with them what she knows. She also had the opportunity to see what it's like to be on the other side, a valuable opportunity for her since Julia is interested in being an art instructor. For some students, the Fox Valley Area High School Glass Exhibition experiences are more than part of school, the experience influences their future career choices.
Come and see what the students of the exhibition this year have created at the 2016 Fox Valley Area High School Glass Exhibition, March 1-26. With the help of our sponsors we are able to show the fine work of our area students.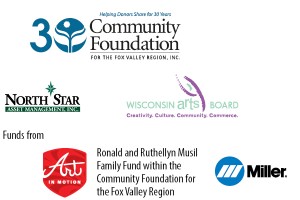 Posted in General | Comments Off

on High School Alumni Return to The Glass Studio