Shattuck Middle School Students Fortified By Fire
Earlier this month, a group of students from Shattuck Middle School in Neenah visited Bergstrom-Mahler Museum of Glass, BMMOG, for a tour of the Paul Stankard, "Beauty Beyond Nature" exhibition, and an art activity in The Glass Studio. That sounds pretty uneventful and probably a regular occurrence at the museum over the past 55 years, right? This group was a little different though. It included special education students and their peer mentors. Their visit was part of a larger program at BMMOG called, Fortified By Fire, which has the goal of expanding access to and inclusion in the arts for underserved populations in the community.
Staff at the museum are collaborating with teachers and participants in a program at the middle school called, Connecting Through Careers, CTC, which matches students interested in working in the health and human services careers with special education students. What the museum is contributing to the program is the opportunity for the CTC students to take the special education students for an outing in the community, work one-on-one with them on a glass activity and create a piece of public art for their school.
Prior to the larger group visit, the CTC students alone visited the museum and learned to work with glass to help them prepare for the larger group experience. On the day of the large group visit, the CTC students walked through the galleries with their classmates showing them the details of the exhibition. Many of the students were especially excited to see all of the signature Stankard bees in the glass and wondered what all of those root people were doing.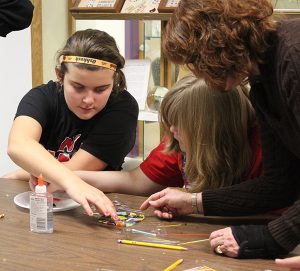 Then, the group went into the studio. The CTC students helped their classmates make a pendant or keychain in glass for themselves and create a tile for the public art project that will be installed near their classroom at Shattuck Middle School. The theme for the tiles is based on the core values of the program, Connections, Caring and Community. One of the special education was spot on with the tile she created. She made a portrait of her peer mentor, "because she is caring." Other students made tiles of rainbows, bees and abstract designs.
A new group of Connecting Through Careers students will visit the museum next semester, work in the studio and create a tile for the middle school installation as the Fortified by Fire program continues throughout the school year. This community collaboration is made possible, in part, by a grant from The Community Foundation for the Fox Valley Region. If you would like to support this program, join our amazing group of donors and contribute today.