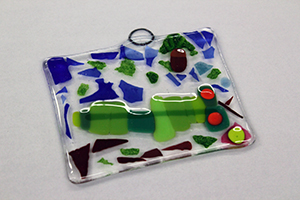 Girl or Cub Scout Tour with Activity – Mar 2020
Tuesday, March 10, 2020 | 4:30-6pm
Registration Cut-off Date: Thursday, March 5, 2020
Discover the art of glass at Bergstrom-Mahler Museum of Glass when you tour the museum and create a fused glass sun catcher.
 Tiger Elective Adventure: Stories in Shapes
Visit an art gallery or museum.
Look closely at pictures of some art, decide what you like and share your ideas.
Create a piece of art on paper, poster board, or canvas.
Draw or create an art piece using shapes.
 Wolf Elective Adventure: Collections & Hobbies     
3A.   Visit a show or museum that displays different collections or models.
Lions, Bears and Webelos are also welcome to register.
Appropriate for all ages.  Scouts must be accompanied by leaders and/or parent chaperones. Adult/ scout ratios required by the BSA are required for all clinics. (Adults may participate for the same fee if space allows. Please call in advance.)
11 in stock