Docents Know Glass
January 22 – May 16, 2021
Museum docents are an integral component of any museum's educational vision, facilitating learning in the galleries. Totaling more than 75 years of experience, Bergstrom-Mahler Museum of Glass's volunteer guides have hand-selected works for exhibition from the permanent collection that are most meaningful to them. From antique paperweights and Germanic glass drinking vessels to Victorian baskets and contemporary glass sculpture, Docents Know Glass is sure to inspire an appreciation for everything Bergstrom-Mahler Museum of Glass has to offer – including our fantastic docents! This exhibition is curated by Liane Buttita, Gail Dolan, Chris Grunwald, Kay Hendrickson, Pat Rosenak, Mary Ellyn Vicksta and Jeff Zdrale, and is supported in part by the Richard L. Johnson Memorial Fund.
Fox Valley Area High School Exhibition
March 4, 2021 – April 4, 2021
Bergstrom-Mahler Museum of Glass strives to expose the community to the versatility of glass while encouraging the creativity of talented young artists in the area. The encouragement of our young people and their development in the arts is crucial to our future economic and social development. We are pleased to exhibit glass art made by high school students in the Fox Valley area. Through creating art in the classroom, at home and in our after school programs, students have the opportunity to share their work in a public setting.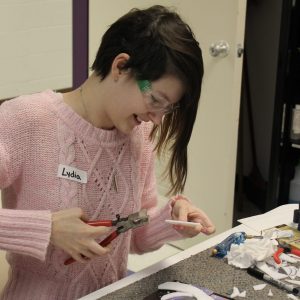 New on View: Highlighting Recent Acquisitions to the Museum's Permanent Collection
May 28 – August 22, 2021
New on View highlights recent acquisitions of works in glass to Bergstrom-Mahler Museum of Glass's permanent collection of contemporary art and paperweights. A highlight of this show includes a selection of antique and contemporary glass paperweights from the collection of longtime supporters Gary and Marge McClanahan. The show will feature works by artists such as Marvin Lipofsky, Mary Shaffer, Ken Rosenfeld, Debbie Tarsitano and Marc Petrovic, most of which have not previously been exhibited.