About the Festival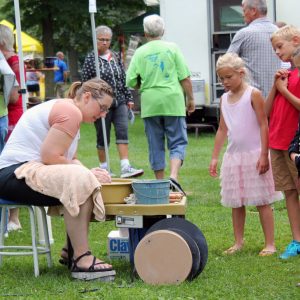 SPECIAL COVID-19 PRECAUTIONS: The 2021, 47th Annual Bergstrom-Mahler Museum of Glass Arts Festival has been canceled.
The health, safety, and enjoyment of our guests, artists, volunteers, and staff is our primary concern. With the continued public health threat of the COVID-19 virus, we have decided to cancel the 47th Annual Bergstrom-Mahler Museum of Glass Arts Festival at Riverside Park and the museum grounds in Neenah. We have been monitoring the situation for some time, have continued to follow public health guidance, and believe this cancellation is in the best interest of all concerned.
Everyone in our community of artists and guests has been impacted by COVID-19 and we are aware of the impact of canceling this event. The Arts Festival is a much loved Fox Valley tradition where friends and family gather, shop, and relax all in support of the Arts in their community. The festival features fine arts and crafts from artists across the region in a variety of media. It attracts approximately 5,000 patrons each year and features great food, children's activities, and a beer garden with a live band on the lakeside lawn of the museum. We will not risk the safety of visitors, artists, volunteers, and staff. Instead, we look forward to next year and will work on plans to share this type of event when the health risks and concerns have subsided.
This decision will financially impact our artist participants and we encourage everyone to support the artists in other safe and generous ways. This event is a major fundraiser for Bergstrom-Mahler Museum of Glass and we ask that you support the museum with donations and your attendance at future events.
Stay well, and we look forward to seeing you back at the Arts Festival as soon as possible. Watch our social media channels or e-newsletter for future announcements.