Harvest Corn Project Sales Begin Tuesday, November 3
Bergstrom-Mahler Museum of Glass' Holiday Open Houses and Art Activity Days have grown over the years to be a loved and cherished tradition around the holidays. This year, with all of the changes we've all had to experience, The Glass Studio at BMMOG is dedicated to keeping this tradition alive.
This November and December, you can participate in our Art Activity Days at home! We will have project kits available for pick up or shipping to create your own glass projects. The project kits include detailed instructions and we will be hosting live Zoom sessions for participants so we can get the real Art Activity Day experience.
To purchase the kits to be shipped, click here. Please allow 48 hours for processing.
When you visit Bergstrom-Mahler Museum of Glass during normal business hours (or the Classes section of this website) between November 3 and December 1, you can purchase the November Art Activity Day Project, Harvest Corn Sun Catcher, at the front desk for $15 each. All project kits are created with the same materials that have been pre-fired in a kiln to round out sharp edges and make them safe for people of all ages.
Each kit contains:
1 corn cob shaped clear base
2 green leaves/stalks
~ 50 colorful round dots to use as kernels
1 small tube of E6000 glue
Toothpicks
Tweezers
1 jewelry bail
Hanging line
Detailed written instructions and log in information for Zoom sessions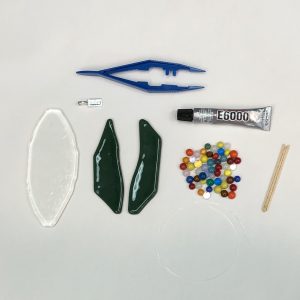 *Please note – Project kits contain small objects that could be choking hazards for young kids. Children require supervision and assistance from an adult.
Project purchase includes complimentary access to live instructional Zoom sessions to be held every half hour on the following dates and times:
Saturday, November 7 – 10:00 a.m. – 1:00 p.m.
Join Zoom Meeting by clicking here
Meeting ID: 896 7513 5058
Passcode: 071352
Friday, November 13 – 6:00 – 8:00 p.m.
Join Zoom Meeting by clicking here
Meeting ID: 891 2194 8503
Passcode: 836114
Tuesday, November 17 – 6:00 – 8:00 p.m.
Join Zoom Meeting by clicking here
Meeting ID: 816 5634 5777
Passcode: 060270
Monday, November 23 – 6:00 p.m. – 8:00 p.m.
Join Zoom Meeting by clicking here
Meeting ID: 837 3200 5282
Passcode: 930362