Exhibit Programming
With each temporary exhibition at the museum the staff thoughtfully arranges programming to complement the artwork and deepen the viewers understanding and appreciation of it.
Fox Valley Area High School Exhibition
March is Youth Art Month and to celebrate the museum holds the Fox Valley Area High School Glass Exhibition. Each fall, area high school art teachers are invited to bring their students to participate in workshops in The Glass Studio to create works for the show. Teachers also may submit works created in their classrooms.  Each year artwork from more than 100 students from at least 12 area schools on view. Watch our event calendar for details of the next exhibition.
Public Opening – Artist Demo and Exhibit Tour
Saturday, March 4th 2-4pm
Art After Dark
Make a unique memory with friends as you experience Art After Dark at Bergstrom-Mahler Museum of Glass in Neenah.
Experience the current exhibition and museum collections in a more relax environment
March 16th 5-7pm
Classes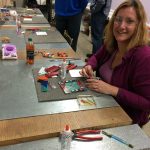 The Glass Studio at the museum offers classes and camps throughout the year for both youth and adults using glass as the primary medium. Art Activity Days are held one Saturday each month from 10am-1pm. All are welcome to come to work in the studio on a pre-selected glass project.
More information on The Glass Studio offerings
Special Events
Arts Festival – Sunday, July 17, 2016
On the third Sunday in July for the past 42 years, Bergstrom-Mahler Museum of Glass has hosted the Arts Festival in Riverside Park as a fundraiser for museum programming. Learn more about the family-friendly event.
Holiday Open House
Saturday, December 3, 10am – 3pm
Each December, the museum holds an open house to celebrate the season. All are welcome to create a fee-based project in The Glass Studio and create free make-and-take projects throughout the museum. Learn more about the event.
Benefit Concert
CONCERT WITH CHRISTIAAN SMITH TO BENEFIT MUSEUM
 March 4, 2017 @ 7:00 pm – 8:15 pm
James W. Perry Hall UW Fox Valley Campus
1478 Midway Road Menasha
WI 54952
Please join us for "Songs We Know: When Hits Become Art" with Christiaan Smith – a concert to benefit education programs at Bergstrom-Mahler Museum of Glass. Hear Smith sing a classic vocal recital to include songs of Johnny Cash, John Mayer, Chet Baker, Norah Jones, Maroon 5, Adele, John Legend, and more. Purchase tickets today.